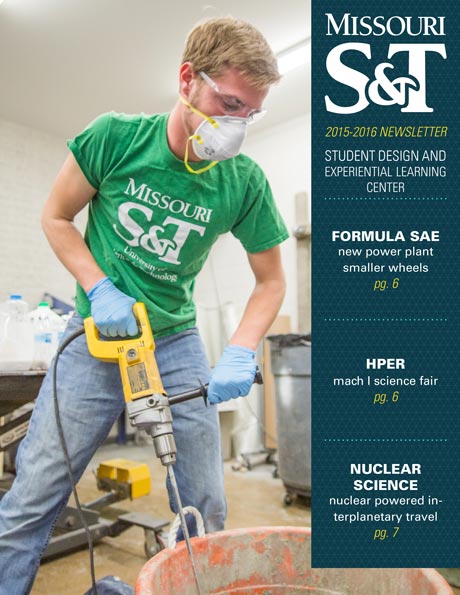 I've had the opportunity to work on several high-volume print media pieces during my time as a graphic designer for both the Missouri S&T Solar Car Team and the Missouri S&T Student Design and Experiential Learning Center. The "Recharge" piece I completed for the Solar Car Team as part of our rebrand had an audience of roughly 2000 people.
In the fall of 2015, the Design Center asked me to begin design on a newsletter with an expected audience of 5000-10000 people. The goal of the letter was to not only connect personally with existing donors, but to also tell the story of the design center to people who may have never heard of its mission before.
My team and I quickly decided the best way to do both of these is to make the story not about the technical side of the projects, but about the students involved. This helps our existing donors put faces and lives to their dollars, and keeps new readers interested by telling the human side of the story. I then worked to solicit stories from as many of our 15 design teams as possible.
Next, I worked on the graphics for the piece. The university had just rolled out a new brand, significantly changing colors and making use of new patterns and visuals all around. I took these patterns and expanded them to fit my vision for the newsletter, with an isometric grid background bringing visual interest to short blurbs and illustrations, and the use of an infographic to tell the stats of the Design Center. Front-and-foremost with each story was a photo of the contributing team member who wrote it, tying the whole thing back to the goal of a personal connection between the readers and the teams.
You can download a PDF of the completed newsletter here, or browse the lower-quality lookbook below.